Contacts:
LCH.Clearnet : Pierre-Dominique Renard
Director, Customer and Market Management
Tel: + 33 1 70 37 66 99
Luxembourg Stock Exchange : Christian Descoups
Press relations
Tel: + 352 47 79 36 272
LCH.Clearnet to clear Luxembourg Stock Exchange
Paris, 29 May 2007
LCH.Clearnet SA and the Luxembourg Stock Exchange are pleased to announce the signature of a Memorandum Of Understanding to implement clearing services for Luxembourg Stock Exchange markets.
Subject to regulatory approval, LCH.Clearnet SA will deliver its clearing services in respect of transactions in corporate bonds, government bonds and equities.
By choosing LCH.Clearnet SA as central counterparty, the Luxembourg Stock Exchange will deliver a competitive, automated and fully integrated solution from trading to clearing and settlement, allowing reduction in the costs of transactions in a secure and structured market environment.
LCH.Clearnet SA' s clearing member community will be able to access products listed in Luxembourg, a European standard-setter for international securities transactions, with over 42,000 products listed, including 29,000 international bonds or nearly 60% of the European total, representing 4,100 issuers from over 100 countries.
The launch of the service is expected to take place in December 2007.
This project follows the launch of a new trading technology by the Luxembourg Stock Exchange and is an excellent strategic fit for both parties. First, this straight-through-process will not only allow the Luxembourg market to comply with industry best practice in respect of central counterparty services but will also promote the Exchange by improving volume and liquidity. Second, LCH.Clearnet SA will further expand its service reach in a competitive environment.
Christophe Hémon, CEO of LCH.Clearnet SA, said, "We welcome this agreement with the Luxembourg Stock Exchange, which underlines our desire and capacity to clear new markets. The development of this link will increase the interaction between the respective LCH.Clearnet SA and Luxembourg Stock Exchange communities, and thus develop new business, mainly in corporate bonds, an area where the Luxembourg Stock Exchange is particularly well-placed."
---
Information on LCH.Clearnet
LCH.Clearnet is the leading independent central counterparty (CCP) group in Europe, serving major international exchanges and platforms, equity, exchange-traded derivatives, energy, interbank interest rate swaps markets and the majority of the Euro-denominated and sterling bond and repo markets.
LCH.Clearnet is owned 45.1% by exchanges, 45.1% by users, with the balance being held by Euroclear. Plans to increase the percentage ownership of users have recently been announced. With extensive governance rights for users and trading platforms, LCH.Clearnet is committed to operating under strict principles of non-discrimination across its customer base.
Accessing the widest range of CCP services in the world, LCH.Clearnet users will increasingly benefit from the consolidation of this broad range of markets and instruments,
improving returns and freeing up capital for other activities.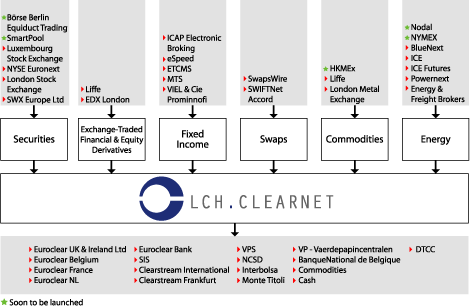 Information on Luxembourg Stock Exchange
The Luxembourg Stock Exchange began operating as a limited company in 1929, and has since then gained extensive experience in listing and trading of securities from many different regions. Today the Exchange has two markets — regulated and Euro MTF — with 29,000 international bond issues representing 60% of total bonds listed on EU markets. It also lists some 7,000 shares and units of investment funds in around twenty currencies, offering a wide range of investment opportunities, as well as 220 Global Depositary Receipts of issuers based in the developing world.
Market portal www.bourse.lu offers individual investors easy access to market information on Luxembourg securities. This is rounded out by data available at www.cclux.lu, operated by CCLux, a company specialized in Luxembourg investment funds that became a subsidiary of the Luxembourg Stock Exchange in May 2002. Data produced by the Exchange and CCLux are also sold to specialized vendors for circulation to market participants via electronic networks.