| | |
| --- | --- |
| Originating department: | Treasury Operations |
| Company Circular No: | LCH.Clearnet Ltd Circular No 3016 |
| Date: | 26 October 2011 |
| To: | All Members and PPS Banks |
LCH.Clearnet Ltd Christmas Period 2011
LCH.Clearnet Limited will be closed on 26 December 2011 but will register trades for the EquityClear Chi-East market that will be open for business as per normal:

No margin calls will be processed on 26 December 2011.

Margin Calls from close of business 23 December 2011 will be processed and called from your PPS Bank for value Tuesday 27 December 2011 (except for those currencies where holidays apply).

Risk Management will assess member exposures up until 23 December 2011 and may call for additional margin to cover forward exposures.

Reports will be available on Tuesday 27 December 2011 at approximately 7am.
Service Opening Table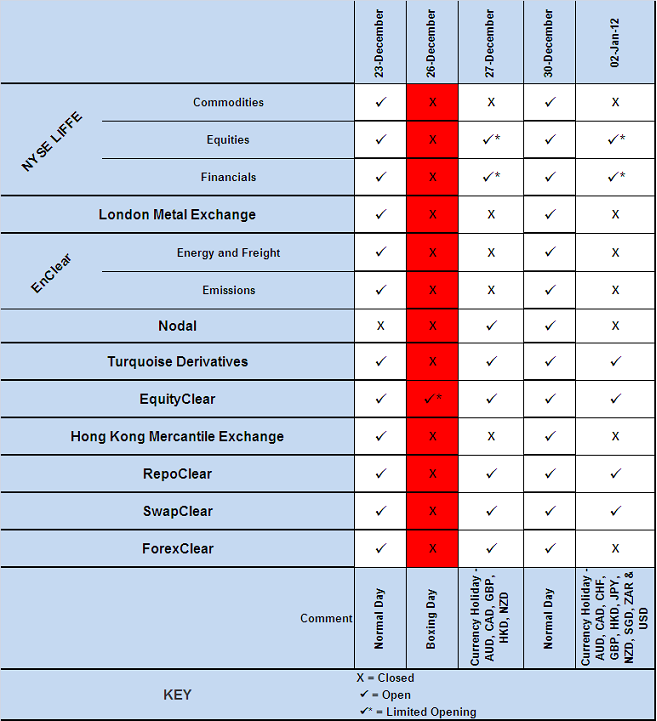 The red columns denote days on which LCH.Clearnet Ltd is closed.
Further information
If you have any queries, please contact the Treasury Operations department by phone on 020 7426 7505 or by email at lchoperations-treasury@lchclearnet.com.
Siobhán White
Director, Treasury Operations