| | |
| --- | --- |
| Market: | All |
| Products: | All |
| Date: | 26 May 2011 |
Treasury financial statements - Label changes
External User Acceptance and Production planning
LCH.Clearnet SA will implement the labels changes in the Treasury financial statements on the External User Acceptance platform on Monday 6 June, in line with the Info flash sent to clients early May.
Please find further details about the label changes in the member notices section on our website: http://www.lchclearnet.com/member_notices/flash_infos/other_projects/treasury_financial/2011-05-06.asp
New change - Additional margin
In addition to the implementation of label changes on the External User Acceptance platform, a new line for the 'additional margin' will be included in the AC0102 report.
These additional margins are requested to Clearing Members when their individual and daily uncovered risks calculated for the next the Default Fund exceed the current level of the Default Fund which is only a monthly call (please refer to the Article 19 of the IV.3-1 Instruction for the Cash and Derivatives Default fund and to the IV.3-2 Instruction for the Default Fund Fixed Income and to the CDS clearing Rule Book).
The 'additional margin' will be added in the "Collateral Flow" section, i.e. after the 'Initial Margin' or 'Margin Requirement' lines depending on the report. Please refer to the example hereafter :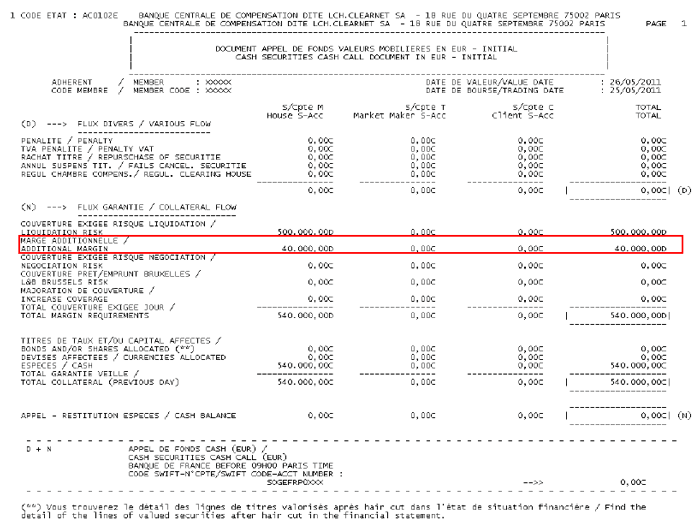 Delivery production platform
The label changes and the extra line for the additional margin will be implemented on the Production platform on Friday 8 July.
For further information, please contact:
Your account manager
or
Your Product Implementation Manager:
Dorothée Fresneau: +33 (0) 1 70 37 66 05 – dorothee.fresneau@lchclearnet.com
Customer and Market Management LCH.Clearnet SA