| | |
| --- | --- |
| Markets: | All |
| Products: | Bonds & Repos |
| Date: | 8 March 2010 |
Intra-day margin call and Forward repos margining
Project schedule and simulations availability
In its communication sent the 6 November 2009, LCH.Clearnet SA announced the introduction of an intra-day margin call for its Bonds and Repos clearing segment as well as a change to the margining methodology.
This project generates modifications to LCH.Clearnet SA's risk management subject to regulatory approval.
LCH.Clearnet SA will take advantage of the period until launch by sending simulations of the new margin requirements upon member request.
Those simulations will be calculated from production data recorded over the past few months for this purpose. Members are strongly advised to analyse the simulations thoroughly.
Simulations will be sent by secured email, once a month until go-live, and exclusively to members who would have returned the attached form.
Please find below the revised project schedule: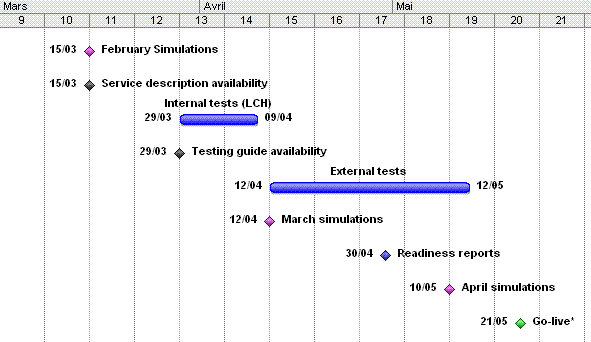 Additional information
Internal tests (LCH)
During this phase, changes to the margining methodology and report modifications will be applied on our test environment for internal validation. Members are advised not to test cases directly linked to margining during this period.
External tests
Members can test the changes in reporting and margining implied by the project. Members will get specific support from LCH.Clearnet SA teams.
Readiness reports
Members will have to confirm their readiness to LCH.Clearnet SA by the 30 April 2010. More details will be provided along with the testing guide.
Additional documents
For further information, please contact:
your LCH.Clearnet SA product implementation manager:
Jean-François Sougakoff: +33 (0) 1 70 37 65 36 – [email protected]
or your local account manager:
Michel Bokobza: +33 (0) 1 70 37 65 55 – [email protected]
Customer and Market Management LCH.Clearnet SA